Prof. Atul Pathak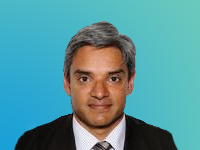 Professor of Medicine and the Head of the Department of Cardiovascular Medicine at the Princess Grace Hospital in Monaco.
Professor Pathak is a pharmacologist and cardiologist. He is currently President of the European Society for Patient Care (SETE – Société d'Éducation Thérapeutique Européenne) and President elect of the French Society for Hypertension (SFHTA) and social media ambassador for the Hypertension Working Group of the European Society of Cardiology (ESC).
His major focus is on clinical trials for new drugs, devices or solutions (e-health, artificial intelligence) in the field of cardiovascular medicine. Professor Pathak has taught undergraduate and postgraduate medical, pharmacy and psychology students. He is currently directing a research team, affiliated to the French National Centre for Scientific Research (CNRS), focusing on cardiovascular pathophysiology and clinical pharmacology.
Professor Pathak has authored or co-authored over 250 publications. He is also the founding editor of the international journal, Psychology & Health. He is on numerous editorial boards, has been a visiting lecturer at several prestigious institutions throughout the world and has been interviewed by news agencies on topics ranging from pharmacology of hypertension or heart failure and autonomic modulation in cardiovascular diseases. He has both academic and institutional commitments, among them participation at advisory boards at the French National Agency for the Safety of Medicines and Health Product (ANSM) and the French National Authority for Health (HAS) for the review of clinical trials protocol, assessment of benefit /risk ratio of drugs (marketed or under development) and medico-economic issues (regarding lipid, blood pressure lowering drugs and devices). His interests are hypertension, cardiometabolic diseases and heart failure, with a focus on devices or innovative pharmacological approaches.