Olivier Gryson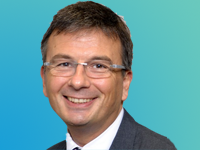 Olivier Gryson, PharmD
Switzerland
Head of Digital Healthcare & a:care lead, Abbott, Switzerland.
After studying pharmacy at the University of Paris V, Olivier GRYSON graduated in computer science applied to biology. He has worked for the last 20 years in the pharmaceutical industry in global positions, building international and local digital medical programs for healthcare professionals and patients.
His main interests focus on the impact of digital technologies on medication adherence and behavioral changes.
Olivier is currently Global Head Digital Healthcare at Abbott EPD (Established Products Pharmaceuticals). He leads the a:care medical program that aims at improving medication adherence through behavioral science and digital.
During the last 2 years, a:care has trained 45,000 healthcare professionals to behavioral science. The first a:care international congress that took place in 2021 gathered 10,000 professionals and was endorsed by 44 international and national medical societies.
Olivier is the author of "Introduction to digital marketing in the pharmaceutical industry".