Prof. Badr Eldin Mostafa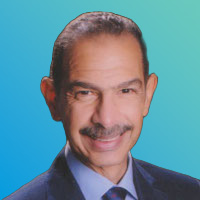 Prof. Badr Eldin Mostafa
Egypt
Professor Badr Eldin Mostafa is Professor Emeritus, former Chairman Department of Otolaryngology, Head and Neck Surgery at Faculty of Medicine Ain-Shams University.
He obtained his Bachelor of Medicine and Surgery in 1981 (Valedictorian) and degrees of Master of Science in 1985, Medical Degree in 1989, ECFMG in 1982 and DU of clinical research in 2009 (Bordeaux, France).
Professor Badr Eldin Mostafa is Member of IRB (Faculty of Medicine), National Commission for Professorial Nominations, Head of training Arab Board of Medical Specialties and Egyptian Board for Medical Specializations.
He is also Member of CORLAS, ELS, American Academy, Société Française d'ORL-CCF, Korean ENT-HNS Society, Egyptian ORL society, Egyptian Skull Base Society, Egyptian Society Cochlear Implantation as well as regional representative of Mediterranean Society of Otology and Audiology [MSOA] and executive committee Vertigo Academy International (VAI).
Professor Badr Eldin Mostafa speaked in more than 200 national and international meetings, congresses, and training courses.
He published 103 articles, 5 books and he is reviewer for 10 journals.