Assoc. Prof Tan Ngiap Chuan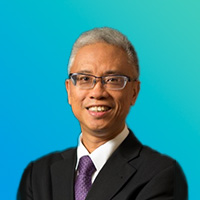 Assoc. Prof Tan Ngiap Chuan
Singapore
Clin A/P (Dr) Tan is Director, Department of Research, SingHealth Polyclinics (SHP), Singapore and Vice-Chair (Research), SingHealth Duke-NUS Family Medicine Academic Clinical Program. Clin A/P (Dr) Tan has been a Family Physician cum senior consultant for the past 15 years. He is a Fellow with the College of Family Physicians Singapore and Academy of Medicine who graduated as one of the six pioneer group of clinicians in the Master in Clinical Investigations in NUS.
Since his appointment as Director of Research in SHP in 2012, A/P Tan has been coaching medical and nursing undergraduates, Family Medicine Residents and Family Physicians in Family Medicine Research. His research interests focus on improving person-centred care via technology and innovation. A/P Tan is also the recipient of the Humanity Award in 2006 for research relating to SARS, SingHealth Excellence Award for Clinician in 2012. He is the first family physician to receive the NMRC Clinician Innovator Development Award in 2019 to develop a novel internet of thing system to promote smoking cessation.
Recent awards received are NMRC Clinician Innovators Development Award (CIDA) in 2020, Singapore Public Administration Bronze Medal (Pingat Pentadbiran Awam Gansa) in 2021, Singapore Health Quality Service Superstar Merit Award in 2022 and Duke NUS Master Academic Clinician award in 2022. He has published more than 120 papers in peer-reviewed journals and received awards for oral and poster presentations at various WONCA and Family Medicine Conferences..
This is a tentative agenda and may be subject to change. Abbott does not guarantee the attendance of the announced speakers and disclaims any responsibility for potential speaker cancellations or other changes to the agenda.