Prof. Michael Strupp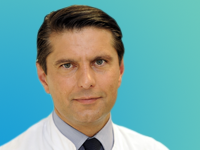 Prof. Michael Strupp
Germany
Professor of Neurology, Department of Neurology and German Center for Vertigo and Balance Disorders, Hospital of the Ludwig Maximilians University, Munich, Germany
Professor Strupp's particular area of interest is the treatment of vestibular, ocular motor and cerebellar disorders.
After studying medicine at the Technical University of Aachen and in Rochester, New York, Professor Strupp worked for three years in basic neurophysiological research, mainly doing patch-clamp recordings.
He has authored 426 PubMed listed papers (h-index 80, i10-index 282) and five books on vertigo, dizziness and ocular motor disorders. He is currently Editor-in-Chief of Frontiers in Neuro-otology, Joint Chief Editor of the Journal of Neurology and a Member of the Editorial Board of Neurology. He is also very much engaged in the International Classification of Vestibular Disorders.
He has received many clinical and scientific awards, including the Hallpike-Nylen Award 2106, an Investigator Award of the European Academy of Neurology 2019 and the Galenus von Pergamon Award 2020. He has received an FRCP, FANA, FAAN and FEAN. Finally, he is a passionate teacher and was awarded 'Best Teacher' by the German Neurological Society.